Alissa, Registered Dental Hygienist
Alissa's introduction to dentistry really began in the womb, as her mother worked as a dental assistant while she was pregnant. Because of this, Alissa grew to love spending time at the dental office, and she learned the importance of a healthy smile. With training from Diablo Valley College, Alissa has been a member of our team for ten years and is responsible for helping patients establish healthy home habits, a brilliant smile, and a better understanding of how to take a proactive approach to their own dental care. When she's not at the office, she spends time volunteering at her children's, Olivia and Nicholas, school, and spending time with her family, including her husband and wild dog Roxy.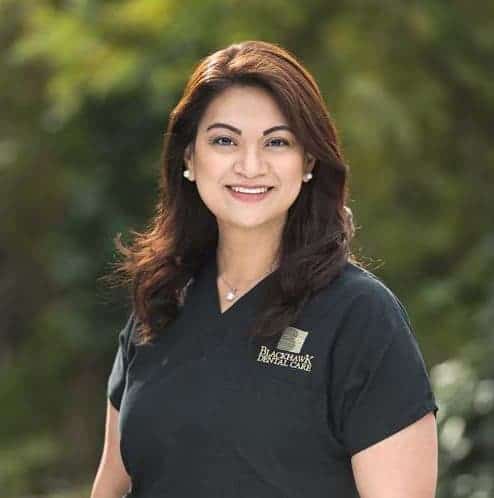 Andrea (Andiee), Registered Dental Hygienist
Born into a family of dental professionals, Andiee knew dentistry just made sense for her. As a second career, she studied dental hygiene at Diablo Valley Community College, supplementing her BS in Biology and 2nd Year MBA from schools in the Philippines. Andiee truly values the impact her patients have on her life and is enriched by the lessons she's learned in the industry. She believes that a healthy smile and a healthy heart are the two components of a healthy life, and she enjoys making a difference in people's health. She's a compassionate, dependable woman of faith, as she's a parent volunteer for 3rd-grade religious education classes and spends her free time with her husband, Chris, and their three children, Bianca, Beatrice, and Byron.
Angela, Registered Dental Hygienist
Angela has training and education in both dental assisting and dental hygiene. She once worked for a dentist in Switzerland for a year and was able to travel the country. She's stayed busy doing dentistry for the last 30 years and has been a member of the Blackhawk Dental Care family since 2008. Angela loves taking the time to get to know patients and educate them about the importance of caring for their smile to create a healthier, happier mouth. One of her favorite things about working as a hygienist is seeing the before and after effects of her patient treatment. Angela loves it when patients have an "Ah Ha" moment about dental hygiene and really start to love their smile. Patients and coworkers love Angela because she's detailed, bold, fun, and caring. When she's not working, you won't find Angela sitting around her house. She loves being active, going to the beach, camping, and traveling to new places.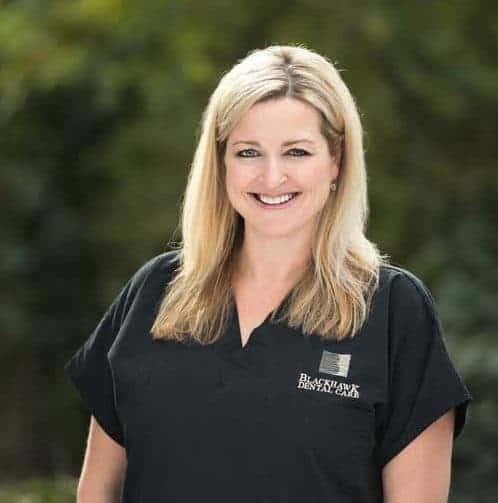 Cheryl, Registered Dental Hygienist
After volunteering on a dental mission to Mexico every spring during high school, Cheryl became interested in dentistry. She studied at San Joaquin Valley College in Visalia, and her additional training has led to certifications in bacterial testing, laser therapy, and Invisalign. Throughout her career, Cheryl has spent 18 years as a registered hygienist, 7 as a registered dental assistant, and two years working the front office. For the past 6 years, she's been an invaluable member of our team at Blackhawk Dental Care.
Linda, Registered Dental Hygienist
Linda has over 35 years of experience working in dentistry. She started as a dental assistant, assisting in periodontal (gum) surgeries, while attending Chabot College for her dental hygiene degree. She later went on to USF to get her Bachelors of Science degree with certifications in laser therapy for the treatment of gum disease.  She finds it rewarding to educate her patients about achieving health through better oral hygiene. Seeing the patients smile and feel proud of what they have achieved always makes her day. She is often told by her patients that she is gentle but very thorough. Linda enjoys working with all the latest technologies and education that our office offers. When Linda is not at the office, she is found spending time with her husband and her five children.  Linda also enjoys volunteering for Amador High School's Marching Band, where her youngest of five is active.
Rita, Registered Dental Hygienist
Rita joined the team in 1995 with the previous owner Dr. Hamblin. She has been serving many of her patients, now friends for the last 20 years! Rita graduated from the University of California Los Angeles Dental Hygiene Program. Rita has been working in the dental field for over twenty years and has been a loyal employee for over 30 years. While living in Southern California, Rita was an instructor at the dental hygiene clinic at UCLA Dental School. She also spent her free time volunteering at the V.A. Hospital and Free Clinic in Los Angeles. Rita is a member of the American Dental Hygienist Association, an organization aiding in the advancements in dental hygiene through education and support. Rita resides in Danville with her husband Michael and two sons, Ian and Noah.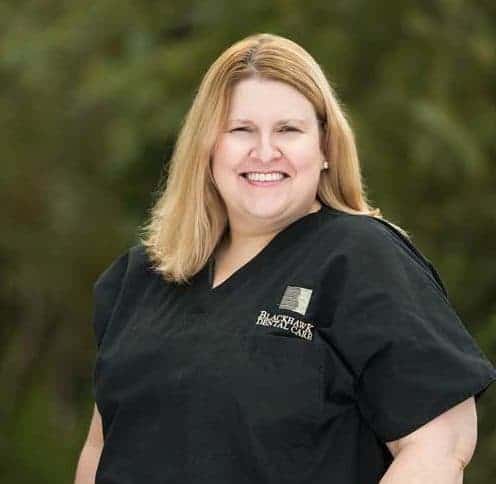 Jennifer, Registered Dental Assistant
Jennifer is a staple at our office, having been here for over 20 years. She takes impressions, designs your same-day CEREC crowns, and makes the treatment rooms patient-ready. With training from Western Career College, Jennifer discovered her love for spending time with patients and creating healthy smiles, and Blackhawk Dental Care's state-of-the-art dentistry provides the perfect environment for her to deliver personalized care. Outside the office, she's often playing with her sweet rescue dog Josie, her family, and her friends.
Lana, Registered Dental Assistant
With 15 years of experience in dentistry and training from Western Career College, Lana has been assisting the doctors at Blackhawk Dental Care for three years. She loves the professionalism of the team, and that the environment allows everyone's different personalities to shine through. There's a dedication to each patient and a passion for improving smiles that shows with every treatment. Lana can be found spending time with her husband, son, and dog Charlie, whether it's traveling to new locales or attending a local sporting event.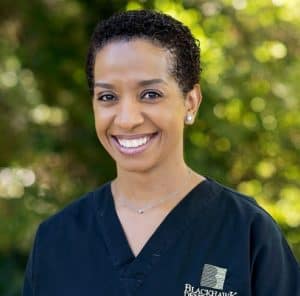 Lydia, Registered Dental Assistant
Lydia will tell you right away that she loves a great smile and great teeth. That made her a natural fit to become a Registered Dental Assistant when she graduated from Mount Ida College. She gets to meet new people every day, and loves that our practice is able to provide a high level of individualized care with the latest technology and a team that truly cares. Outside of work, Lydia loves exercising, traveling with her daughter, shopping, and spending time with her family.
Lynn, Registered Dental Assistant
Lynn has been in dentistry for almost 30 years.  She has studied at Sacramento City College, Mt. Diablo Adult School, and ultimately became a Registered Dental Assistant by passing the boards at University of Pacific. She feels very fortunate to have a career that she's passionate about.  She was born and raised in the Bay area is proud to call herself a California native!  Some of her favorite things are visiting our beaches, lakes, and great outdoors. You can always find her tinkering in her garden, reading a good book, and socializing with my friends. We're lucky to have Lynn on our team!
Samantha, Registered Dental Assistant
We've had the privilege of watching Samantha grow up and flourish in the dental industry because her mother, Terri, happens to work here, too! Samantha received her education as a Registered Dental Assistant from Unitek College and is now attending Carrington College's Dental Hygienist program while also getting a degree in Biological Science. She loves how the office runs so smoothly with everyone contributing their own personal strengths in order to take care of every patient that walks through the doors. You'll find her reviewing schedules and x-rays, and assisting the doctors with anything that they may need during a procedure. She says she's lucky that she gets to learn from this incredible group of people everyday. Outside of work, you'll find her on a wake-board, a snowboard, or a stand-up jet-ski.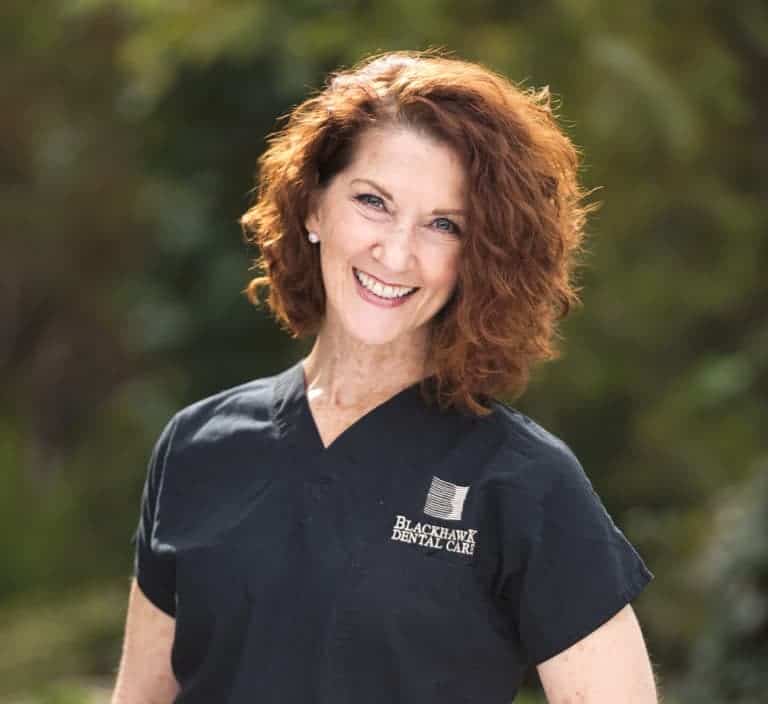 Sarah, Registered Dental Assistant
Sarah joined the team in 2005, She has over 30 years of experience in the dental field. She started her Dental Assisting education in Roseburg, Oregon through Umpqua Community College and later received her license as an RDA from Sacramento City College. Sarah attended the PAC-Live Institute for Advanced Dental Aesthetics training for dental auxiliaries and spent three and a half years as an assistant in a micro-surgical endodontic practice. Her dental experience extends well past dental assisting. She has trained dental staff in digital radiography in Tampa, Florida and played an active role in the establishment of an endodontic practice in Durango, Colorado. When she isn't dental assisting, Sarah is teaching Pilates or group exercise in Danville Auxillary training in Invisalign® & CEREC®.
Ellen, Treatment Coordinator
It's about the personal attention to each patient, and that's exactly what Ellen provides at our office. She's been in the dental industry for 33 years and brings all her experience to Blackhawk Dental Care. She schedules appointments, processes insurance paperwork, and presents treatment plans with financial arrangements. Her favorite part of the job is helping patients find a way to make their care affordable. She's a true caterer to every patient she interacts with. When she's not helping her patients get the care they deserve, you may find her playing Texas Hold'em, eating gourmet meals, or laughing at a comedy show.
Maria – Practice Administrator
After completing the Dental Assisting Program at Santa Rosa Junior College, she began her 25-year dental career. Having been with Blackhawk Dental Care for the last 5 years, she has been responsible for scheduling patients appointments, helping with insurance-related activities, devising treatment plans, and providing the doctors with the business metrics of the practice. She shows a keen ability to handle these responsibilities, as she loves when the "numbers match up"! She also enjoys the teamwork and comradery that the office staff has with each other. If she wasn't currently serving as the Practice Administrator, she might still be working as a chairside dental assistant. Outside of the office, she enjoys the active life and spending time with her husband and family. She is also currently pursuing a degree in Business from Las Positas College in Livermore, CA.